Cycle Problems | Fertility | Pregnancy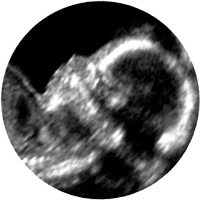 Many women are told that they have "unexplained infertility". Chinese medicine offers reasons for the lack of conception.
Many women use Acupuncture alongside western treatments.
Chinese medicine can be used by both partners before IVF. Juli recommends using Acupuncture and Chinese dietary and lifestyle therapy, before, during and after IVF. She recommends that women, planning IVF, should start Acupuncture at least three months before their treatment.
Six weekly sessions are recommended followed by fortnightly sessions. Once the woman's menstrual cycle and periods are normal according to the guidelines of Chinese Medicine, Acupuncture can be used during the IVF procedure.
Each session is also individualized to fit each patient's personal Chinese medical pattern. Acupuncture is also used before and after the transfer of the embryo to help prevent miscarriage.
Juli has worked in conjunction with both Sheffield and Nottingham fertility units.
"I contacted Juli after hearing that acupuncture can aid conception and also alleviate symptoms of stress. I had been trying to conceive for 2 years and was finding it difficult to cope with my mum's illness on top of that. Two months later Juli has not only helped to reduce my symptoms of stress and introduce me to the wonders of meditation, I am now pregnant too. I will continue to see Juli whenever I feel things getting a little beyond me. Whatever she does with those needles, she does it wonderfully well!"
 Jo,  Broadstairs
I started treatment with Juli just before my first round of IVF. I found the whole experience hugely beneficial and relaxing. I attribute her acupuncture to my subsequent   successful pregnancy and birth. I could not recommend her services highly enough.
Anna, Broadstairs
I came to see Juli after a prolonged period of trying to conceive without success.  I felt that I had tried everything and was losing hope.  Juli was very easy to build rapport and feel comfortable with.  She listened to what I had been through, and what I wanted to achieve.  We arranged a program and after my first session I cannot describe just how relaxed and refreshed I felt.  That night I had the best sleep I had had in a very long time, and as luck would have it my husband and I fell pregnant the following week.  I truly feel that my first session brought my body to a place of calm where falling pregnant became possible, I was overjoyed.  I continued to see Juli who helped me with my nausea and tiredness.  I know that I will see her again in the future, and cannot recommend her enough.
Elaine, Sandwich