Cycle Problems | Fertility | Pregnancy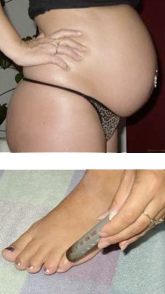 Juli has trained in obstetric acupuncture and works with women antenatally and postnatally.
Often women discover they are refused drugs and even herbal remedies as they may harm the growing fetus. They are often told to "grin and bear it" and just suffer!
During the discomforts of pregnancy acupuncture provides relaxation for both mother and developing baby.
Chinese medicine has been used within gynaecology and obstetrics for centuries. The earliest records date back to 1500 BC. The ancient Chinese believed that pregnancy and childbirth should be a period of balanced health during which the well being of the developing child can be maximised. A healthy pregnancy and labour was considered important for ensuring that the child had the best possible start in life, and for reducing the risk of ill-health later in life.
Many women now need to work during or throughout their pregnancy, which can be exhausting, often resulting in an increase of some of the symptoms of pregnancy. Because they are unable to rest as often as they would like, acupuncture is a wonderful way to recuperate and regain some of that energy, also giving mothers to be that little extra energy for labour.
Chinese medicine uses a herb called 'moxa' which is gently smouldered over a particular acupuncture point on the foot to help in the turning of breech position babies (babies which are head up instead of head down). Midwives understand this to have an effect on the tone of the muscles of the womb, encouraging the baby into a head down position. This treatment is both gentle and safe.
Acupuncture has been found especially useful in the treatment of nausea and vomitting.
"Juli gave me a successful course of acupuncture in March last year when I was hospitalised, suffering from Hypremesis during my pregnancy. I had a beautiful baby girl we have called Olivia.  She weighed in at 7llb 14oz so all my being sick didn't affect her! I kept telling the midwives how good Juli was!            Many thanks!"
                                                                                        Charlotte and Olivia,   Worksop